Melissa Hammer and her team of bonded and insured cleaning staff have a great reputation for going the extra mile when it comes to both residential and commercial cleaning contracts for homes and offices located in the North Okanagan area.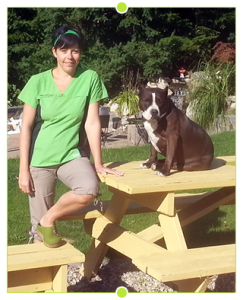 BUT it wasn't always as easy as calling Girls Gone Green to find a great cleaner in the area.
As with many of the best ideas this one was  born out of a bottle of red wine, and an old-fashioned gab session.  Shocking we know, but that's how it happened.  Just a couple of girlfriends sharing their housewifely woes. Seems Melissa had been having a heck of a time finding and keeping a reliable housekeeper so yet again she was on the hunt.
Now her girlfriend, being a recent runaway from the big city and an enthusiastic business owner herself thought"Really, how hard can this be? " and so she started asking a few questions about where her friend had been finding her not so great cleaners. Turned out Melissa had been hiring individuals through local ad postings.
Melissa had some crazy stories but the show stopper was the Facebooking cleaner…yes, you read right! She came home to find this one cleaner sitting at her desk Facebooking. Shocked though not entirely surprised her city-minded friend suggested "Why don't you call a "cleaning agency"?  Then you don't have to deal with any of that…they'll take care of it."
An agency?!  Well sure, that was a great solution…IF there had been one in town. And the rest as they say, is history.

A good cleaner sees the finer details. One might even have a small touch of the "Monica" complex, or if you are not familiar with the 90's hit show Friends you might refer to this as a little obsessive when it comes to cleaning – Blaire Hammer is exactly this. From a very small age Blaire would enjoy choosing chores from the chore hat and getting to do her weekly task of cleaning. This followed her into adulthood, always feeling the need to have a clean space wherever she went. Cleaning had always been a big part of her life – she always found it incredibly rewarding to see a space sparkle after a few hours of work.
Blaire had been working in sales and customer service for 5 years, and during that time at the different stores she managed she had implemented new and different ideas to reduce the company's carbon footprint. She realized it was very small actions that made a large impact, for example instead of throwing away paper recycle it. Blaire also organized many team outings where they would pick up garbage in the local neighbourhood, and along the Bow river.
This eco-friendly way of living became a huge passion of Blaire's and she began to explore different ways of helping to make the world a greener place. After some time Blaire confided in Melissa that she was not feeling happy at her sales job and needing a better challenge. Melissa knowing well that Blaire to be a mean, green, cleaning machine decided it was time to partner and open a new branch in Calgary and area.
Blaire Hammer is making the world a cleaner, greener place one job at a time.
So in spite of the travel, and sometimes less than ideal weather conditions the Girls Gone Green Cleaning team serves a broad area covering Salmon Arm, Vernon, Sicamous, Sorrento, Blind Bay, Sunnybrae, Tappen, Grindrod Enderby and Armstrong BC.   Also available in Calgary, Cochrane, Airdrie, Bragg Creek, and Chestermere AB, and in Northern BC in the cities of Prince George, Vanderhoof and Quesnel.